The tractor for wine-growers
Designed to successfully combine narrowness and stability
A winemaker's ally
Working in the vineyards can be tough, which is why we've designed a vineyard tractor that offers excellent stability and safety, even on the roughest terrain. The Tractovigne will help you get the job done efficiently and professionally, with the lowest centre of gravity in its segment.
Small and muscular
With 74 horsepower, the 1.05-meter-wide tractor boasts a 2.75-meter turning radius and a low centre of gravity for stability.
It is powered by a John DEERE Power Systems engine: 55 kW (74CH) 293 Nm 1500 rpm
Compact, narrow, easy to handle, particularly suited to rugged terrain.
It's a vineyard tractor that performs well on steep, greasy or sloping terrain, with row spacing ranging from 1.30 to 1.55 meters. The tractor is available in 2 cab models, with no attachment points so that it can slide through the vegetation.
It's a tractor designed and assembled in France, and complies with 2022 European legislation relating to anti-pollution and safety standards.
---
Comfort and performance
We offer two cab models to meet your specific needs. The first, a Category 1 cab equipped with a demisting system and heating for comfortable use in all seasons. The second, Category 4, is a pressurised cab that maintains a clean, healthy atmosphere inside, with air conditioning for optimum comfort on the hottest days.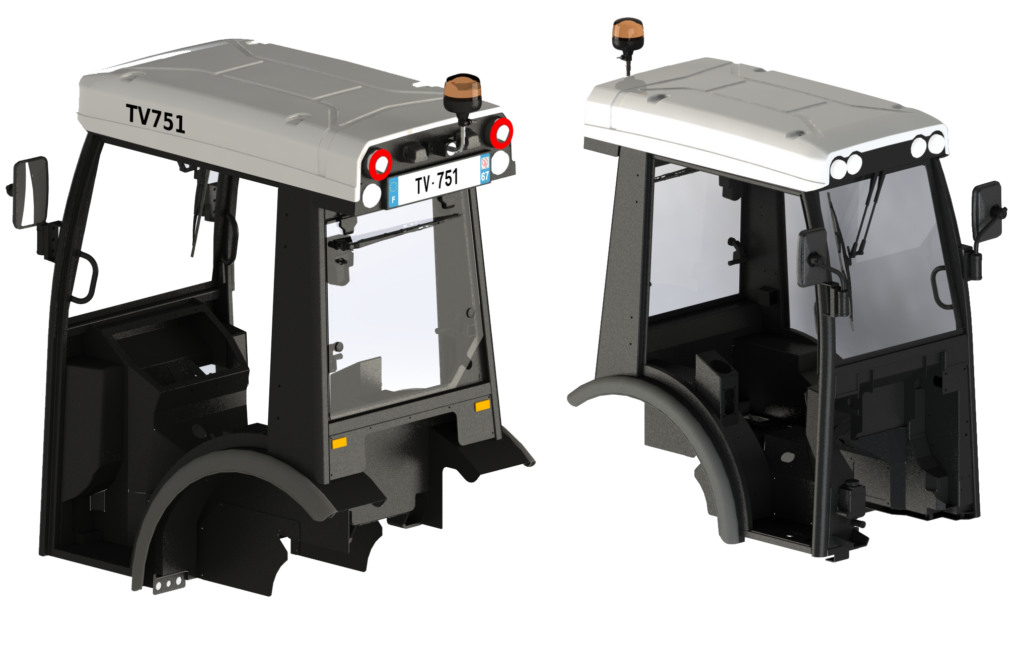 The cab's compact design combines comfort with optimum visibility.
It stands out for its Category 4 certification, the highest level of insulation ever achieved in a pressurised compact cab available on the market.
Pressurised cabin
Category 4
This pressurised vineyard tractor cab protects the operator from dust, particles and noxious gases in the air. Cab pressurisation maintains a clean, healthy indoor atmosphere, limiting operator exposure to pollutants and allergens.
Air conditioning provides additional comfort for the operator, who can work in more pleasant conditions, even during periods of high heat.


Non-pressurised cab
Category 1
The cab is equipped with a heated demisting system for comfortable use in all seasons.

Maximum protection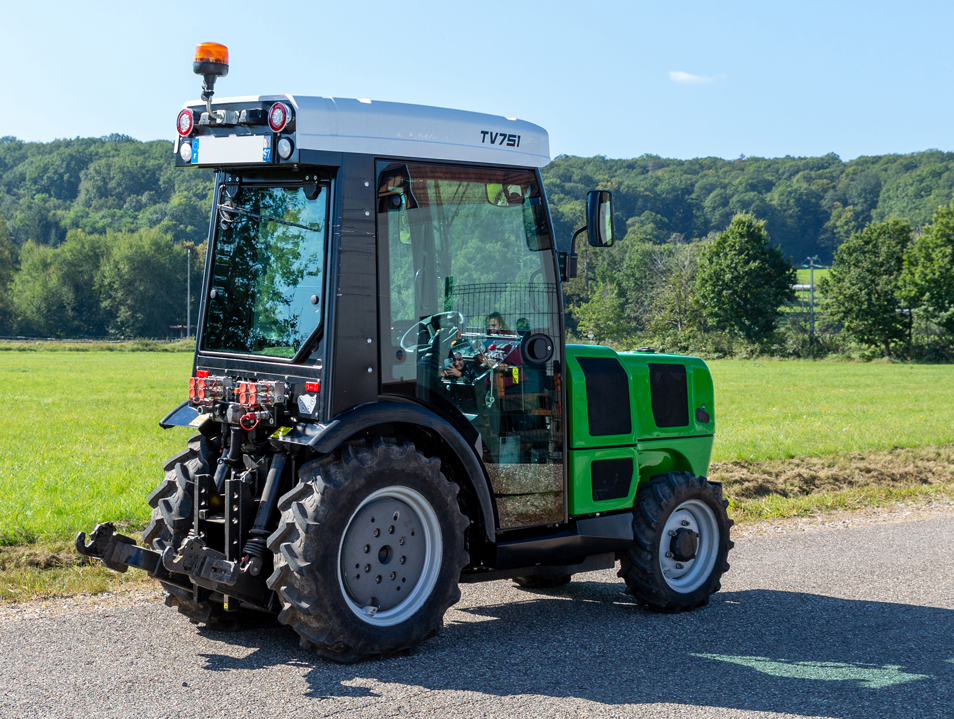 The cab offers excellent visibility for optimum control and maximum comfort.
Enjoy a safe, healthy and user-friendly workspace, where your well-being is preserved while ensuring optimum productivity.
The integrated cab door opening system prevents branches from getting caught. Fully protected seals ensure long-lasting tightness.
---
TractoVigne features
TractoVigne is the only rigid narrow tractor descended from a tractor known as the JDS, which was THE benchmark in Alsace for several decades.
Today, the TractoVigne is the only tractor with this power in a mechanical gearbox! No other manufacturer offers this alternative.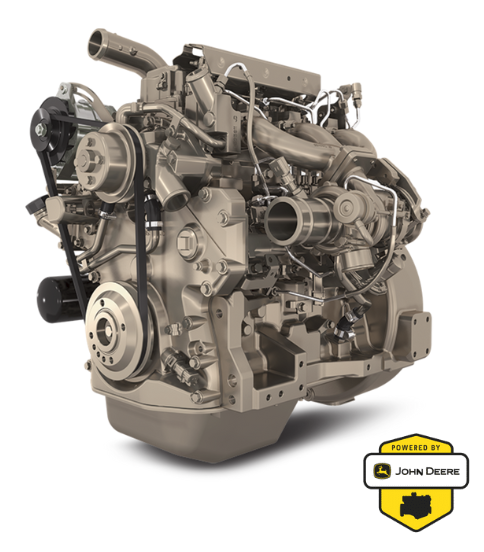 Motorisation
John DEERE Power Systems engine: 55 kW (74 hp) 293 Nm 1500 rpm
Equipped with a John Deere®, 3-cylinder, 2.9 l, 75 hp engine, meets STAGE 5 emission standards.
The TractoVigne lives up to your expectations when it comes to tackling the toughest jobs.
Stage V offers clean, efficient technology
Innovative emissions control technology for enhanced performance. TractoVigne® TV751 features a particulate filter with automatic, controllable maintenance management.
---
Transmission
The TractoVigne® TV751 is equipped with a CARRARO® Drive Tech mechanical transmission, with three four-speed ranges.
Differential lock and 4-wheel drive are electro-hydraulically controlled.
The rear PTO, with electromechanical engagement, enables
Transmission proportional to forward speed or engine speed
2 speed ranges: 540 and 540E
A mechanical lever reverses the direction of travel, ensuring fast, reliable progress.
Differential braking on rear axle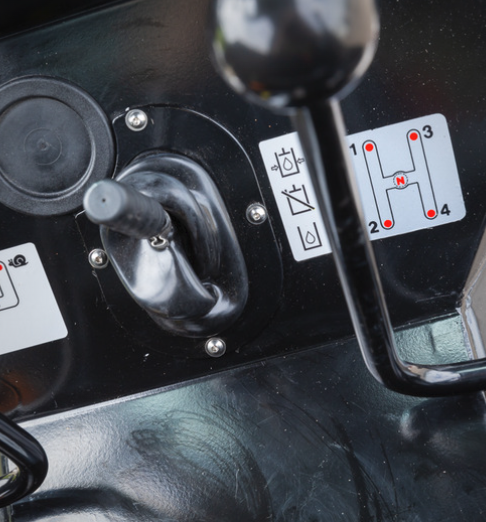 ---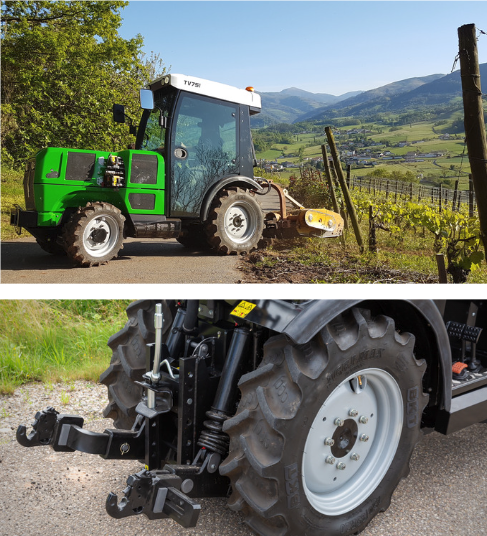 Hitching capacity
A rear-mounted three-point linkage complies with the CAT01 standard.
The TV751 tractor's electro-hydraulically controlled pendulum lift adjusts the implement's tilt and offset position to suit the terrain. It is equipped with a floating function that allows the tools to follow the ground's irregularities in a natural way.
Tilt adjustment compensates for slope, while offset adjustment repositions the tool axially in the row.
The tractor is equipped with a front weight carrier for improved load distribution between front and rear axles.
It can also be used to attach additional weights or to take up tooling through a tool holder. Whatever the make of your tool, our service department can provide you with an adapter that will enable you to use your tool on your tractor's weight carrier.
---
Incomparable stability and maneuverability
A low centre of gravity
The TV51 tractor is a real asset for farmers and winegrowers. With a wheelbase of 1,900 mm and an exceptional turning radius of 2,750 mm, it is perfectly suited to working in the narrow rows of vineyards.
The tractor's low centre of gravity guarantees incomparable stability and maneuverability, which is essential for maintaining the tractor's balance, even on rough terrain or steep slopes, which is particularly important in vineyards where working conditions can be difficult.
It allows drivers to navigate easily through narrow rows without damaging vines or plants, ideal for avoiding obstacles and ensuring fast, efficient work.
---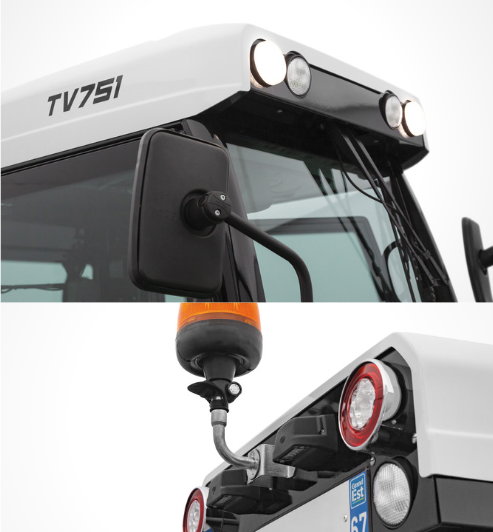 Signal lights
The mirrors and rotating beacon feature a removable, folding system to compensate for the slightest obstacle.
Equipped with bright LED front and rear working lights, for safe night-time working.
All signage is positioned at the top of the cab, reducing the risk of breakage in the rows.
---
Fast, secure connection
Equipped with hydraulic multi-couplings, flat-faced to eliminate the risk of oil leaks.
Their handles facilitate locking and decompression of the coupling.
Equipped with 4 double-acting couplers and two single-acting couplers (front/rear)
Available for both the front and rear of the tractor, the couplers provide flexibility and rapid assembly, eliminating errors when fitting hydraulic hoses.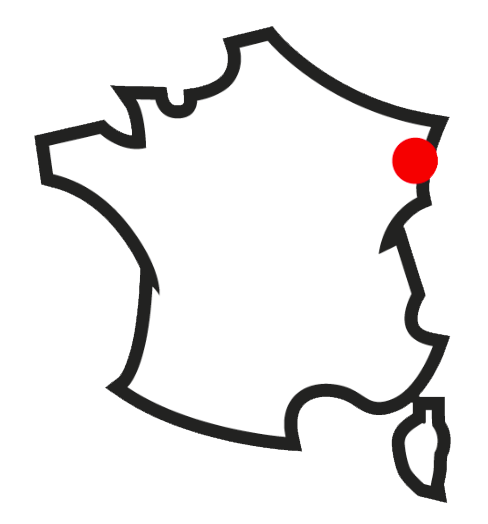 The only tractor designed, built and assembled in Alsace, France
A crazy gamble!
Conveniently, our components are made in France, which saves time in terms of quality and responsiveness.
Tractor – Assembled, made in France, in Alsace
70% of components are made in France
90% of parts made in Europe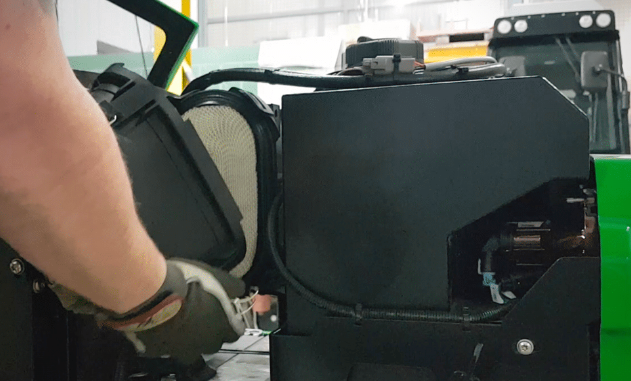 Distributor
Looking for a distributor? Or would you like to become a distributor of the vineyard tractor?